Picket Fence strives to offer a home away from home environment for not only families and children, but staff as well. Staff are seen and treated as family members and we are extremely fortunate to have such a great Picket Fence Family. Most staff members have been with us for many years, including up to twenty-five years!
The Picket Fence Staff meet the requirements of Illinois Department of Children and Family Services, and undergo a thorough background check through Springfield, which includes fingerprinting. A physical examination, including a tuberculosis test is required. Most important, all staff love and understand children and teach them while having fun. Staff meetings are held regularly for the purpose of enriching, improving and evaluating the program. Staff participate in a minimum of 20 training hours per year and meet all educational requirements for their position held. 
Teachers encourage the learning process by providing work/play areas consisting of many different learning opportunities. Materials are used which provide concrete experiences and are adaptable to the different levels of individual children.
The staff is one of the most important roles of any program. Research and experience clearly show that children's earliest years are the most crucial learning years.
Taken from Illinois News (a publication of the Illinois Association for the Education of Young children) is this comment: "Early Childhood programs are an essential part of the education of young children, and a crucial service for families and communities, yet we still pay early childhood teachers less than hairstylists and garbage collectors." said Kathy Thornbug, PH.D, President of the National Association for the Education of Young Children.
Remember, if we want our children to succeed, we need to support the teachers, administrators and programs that give them a great start.
Picket Fence Staff – Learning Center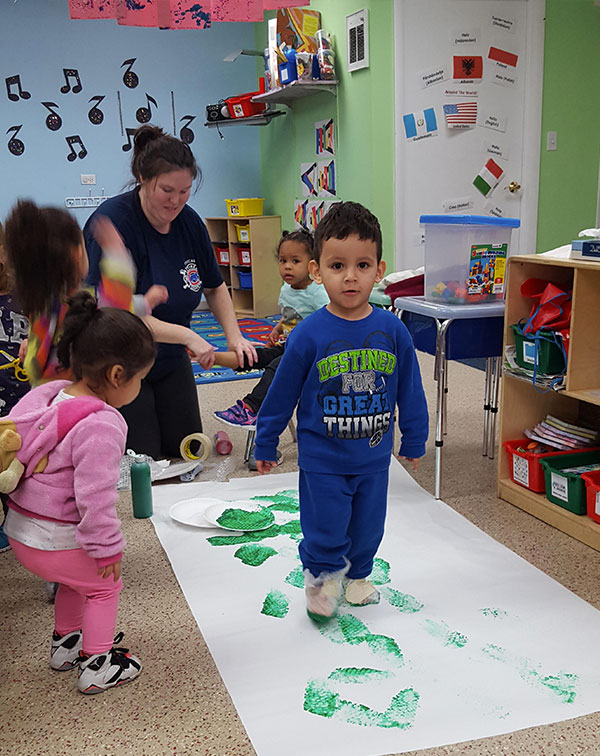 Staff Philosophy
Like The Picket Fence Philosophy, The Picket Fence Staff Philosophy consists of our loving and supportive staff. They respect each child's individual capabilities and nurtures their self-esteem and creativity. Through encouraging self-expression, play and initiating choices of materials and equipment, we promote each child's emotional, social, cognitive, language and physical development. Our staff also sees family as partners in each child's development and encourages ongoing communication and input.